Well friends...my 2014 race season has come to a close with the Santa Shuffle in London, Ontario this past weekend.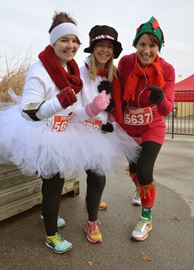 Dressed as snowmen, we ran in support of the Salvation Army. I was pretty darn happy with my pace, and it was a great training run for WDW10km! The atmosphere was super festive; most everyone was dressed up, there was holiday music playing as we ran the track and hot cocoa waiting for us at the end!
Then of Sunday, I joined up with the Forest City Road Races folks for our first training run!
You may have seen on Facebook and Instagram, I was recently named one of the ambassadors for the 2015 Forest City Road Races! I'm so excited to have found a community where I feel at home. Everyone was super welcoming, and it was actually my first time running without music and for the purpose of enjoying the company of other runners.
It was awesome. We chatted about our reasons for running, why we started and what our goals are. I talked about my weight loss journey, and how I've been working really hard over the past year to lace up and get out there.
We finished our 5km training run at Farm Boy, who greeted us with hot coffee, bananas and energy bars!
And then I started thinking about my goals for 2015. Aside from WDW10km, what do I want to accomplish?
Two words.
Half Marathon.
Stay tuned!