Now that we are a month or so into solid feeding, I thought I would share some of my favourite tips and tricks for making solid feeding an awesome experience.
Whether you choose to make your own baby food, go organic, have a tried and true brand you love or are going with baby led weaning, there are a few things that we use and love that have really make the solid feeding experience pretty awesome.
First and foremost, a good stock of bibs is essential when you are introducing purees as well as more solid bits of food...and also come in handy if you have a teething monster on your hands. These handmade bibs from
Sarita Baby
are amazing. When I first bought them, I stored them away; they were just too pretty to use! But then the day came where everything else was in the wash and only the three
Sarita Baby
's remained in the bin...so...we used them.
And they didn't stain! Squash, sweet potatoes and carrots...and no staining! I love these bibs. They are large enough to cover all of baby's chest, have a generous neck allowance for chunky babes like mine and have a super soft minky underside.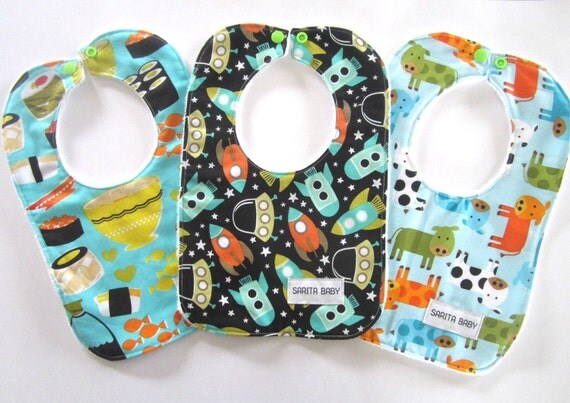 Another item to have in plentiful amounts are spoons. We have probably a dozen different types, and it wasn't until I tried the Dr. Brown's Long Spatula Spoons did we have one that I really loved.
These spoons are incredible. They are flat which makes spooning food into baby's mouth easier, and also makes cleaning off their face easier! Less mess on their face, means less mess on their hands when they inevitably want to play with their food.
Typically, I like to prep meals for the next day the same as I would pack Owen's lunches for the next day. That way, it's all ready to go when Graeme is ready to eat and I don't have to fuddle with cubes in the freezer, defrost them and get everything set up when I may have a cranky baby on my hands.
The
Snack-A-Piller cups from Dr. Brown's
make food storage and serving a breeze, and they hold a good 4-5 cubes of baby food for thawing them in the fridge overnight. They are also great for travel and stack together when not in use!
We also love the
Dr. Brown's Feeding Bowls
for larger meals at home and I'm sure that in no time, the
Divided Plates
will become a favorite piece of baby food gear.
Have a favourite spoon, bowl or bib? Send me a comment so I can check them out!
Happy Feeding!
Disclaimer: While I did receive the Dr. Brown's stacking cups and spatula spoons for the purposes of review, all of the opinions expressed are my own. I truly love these products and would recommend, and purchase more, in a heartbeat.