A new monthly feature this year, $5 Fashion Find Friday. I'm REALLY excited about this, and hope to help you score some really amazing deals on trendy accessories.
It's all about the challenge and the thrill of the hunt. Scouring Etsy, Artfire and fashion houses to find something spectacular that won't break the bank, and will keep you on trend.
A trend that emerged last year, and is staying strong into this spring, is nautical. Everything from steampunk octopuses to weathered anchors....infinity symbols and knotted rope. It's such an awesome trend, and one that I particularly love so when I found this $5 Etsy find...I couldn't resist sharing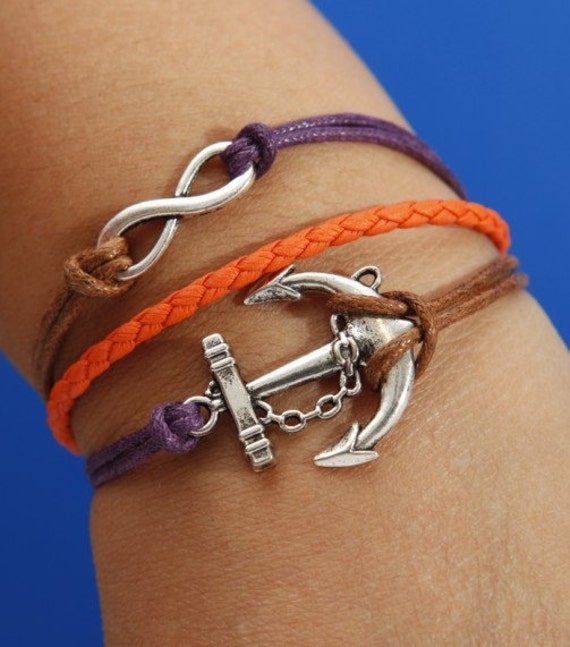 Anchor Bracelet by Pretty Bracelets on Etsy
There are a few excellent design features here to take special note of.
1. The use of Pantone 2013 Spring Trending color Nectarine. It's such a bold pop of color and looks beautiful with every shade that you likely have in your wardrobe. Here, it is paired with a lovely purple, but it would look amazing with poppy red, monaco blue, emerald or kelly green, simply with black and charcoal.
2. The use of the infinity symbol at the top is fantastic as a closure clasp. I have a infinity ring, custom made by
Baily Belle
, that is a constant reminder that I am following my destiny as an artist. It's such an important and powerful symbol.
3. The pairing of three. if you've been a reader for a little while, you know how important odd numbered pairings are to achieve a balanced design. In this bracelet, there are three colors paired with two metal objects. Five elements all together, perfectly balance.
An awesome $5
Etsy
find!