Welcome to the first installment of Mama Blogger Monday, where a new blogger will be featured every Monday (except the first Monday of the month...still reserved for MOMpreneurs!)
I'd like to introduce you to Steph from
The Adventures of Goober Grape and Monkey Man
. She is a fantastic writer, an inspiring Mama who's on the go...you know, doing what mom's do...running marathons, losing weight, going to BlogHer'11...being amazing!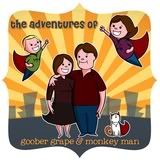 I'm Steph, the owner/creator of The Adventures of Goober Grape and Monkey Man, a blog following my family, our daily adventures and our jerk cat, Jack. I'm a full time working, lots of weight losing, wife and mother to two very energetic kids who is always on the run here in Orlando, FL. I write about most anything and everything, but a lot of it is just the craziness that is my family. We spend entirely too much time at Disney, and honestly if we could just live in the parks…we would!
Steph hosts all sorts of link-ups on her blog from Take-It-Off Monday for weight loss and MediFast and Wordful-Wordless Wednesdays to a Friday Blog Hop!
What I love most about Steph is that she is real. There are no bones about it, whether she's struggling with bedtime with her son (a must read!) or gushing about her husband (she's an incredibly supportive wife! Seriously!) or she's talking about other kiddo related topics (travel, potty training, feeding, theme parks etc.). She is real...to the core.